Product Description
Each of these handmade ballpoint pens features chrome-plated brass fittings and hand-inlaid panels of saltwater mother of pearl.
The twist-action cap is matte DLC PVD coated for exceptional durability. DLC, or "Diamond-Like Carbon", is a special type of PVD coating that bonds carbon atoms (what diamonds are made of) to the surface of your pen. This advanced process simulates the effect of a layer of diamonds on top of your pen, with all of the protection you would expect from the precious stone.
While some makers produce pens with small pieces of mother of pearl, we at Xezo believe that the difficulty and cost it takes to use saltwater white mother of pearl of this size and quality creates a stunning effect that is well worth all the work it involves. We use mother of pearl with a hardness of 4.5 on the Mohs scale (as hard as steel).
Mother of pearl is a natural material, and every panel is unique. Due to this, some distinctions in the colors and textures in these pens may occur, helping make your pen one of a kind. The pen barrel is round and smooth.
Collapsible content
Product Specifications (Click to expand / hide)

Model Name
Maestro White MOP PVD B
Body
Solid brass barrels
Body Features
- DLC PVD coated cap
- Natural white mother of pearl inlay
- Smooth, rounded shell
Cap Closure
Screw cap
Color
Oceanic White Mother of Pearl with DLC PVD
Diameter
12 mm
Fittings
Chrome-plated brass
Length
145 mm / 5.71 in
Line Width
Medium (0.7 mm)
Other Features
Handcrafted in a limited edition
Packaging
Gift box, carrying 1 extra ballpoint cartridge, certificate, and 3-year warranty card
Pen Type
Ballpoint
Refill
Standard sized ballpoint refill
UPC
850024254527
Warranty
Every Xezo writing instrument is guaranteed against all defects in workmanship and parts for 3 years from date of sale.
Weight
1.5 oz / 42.52 g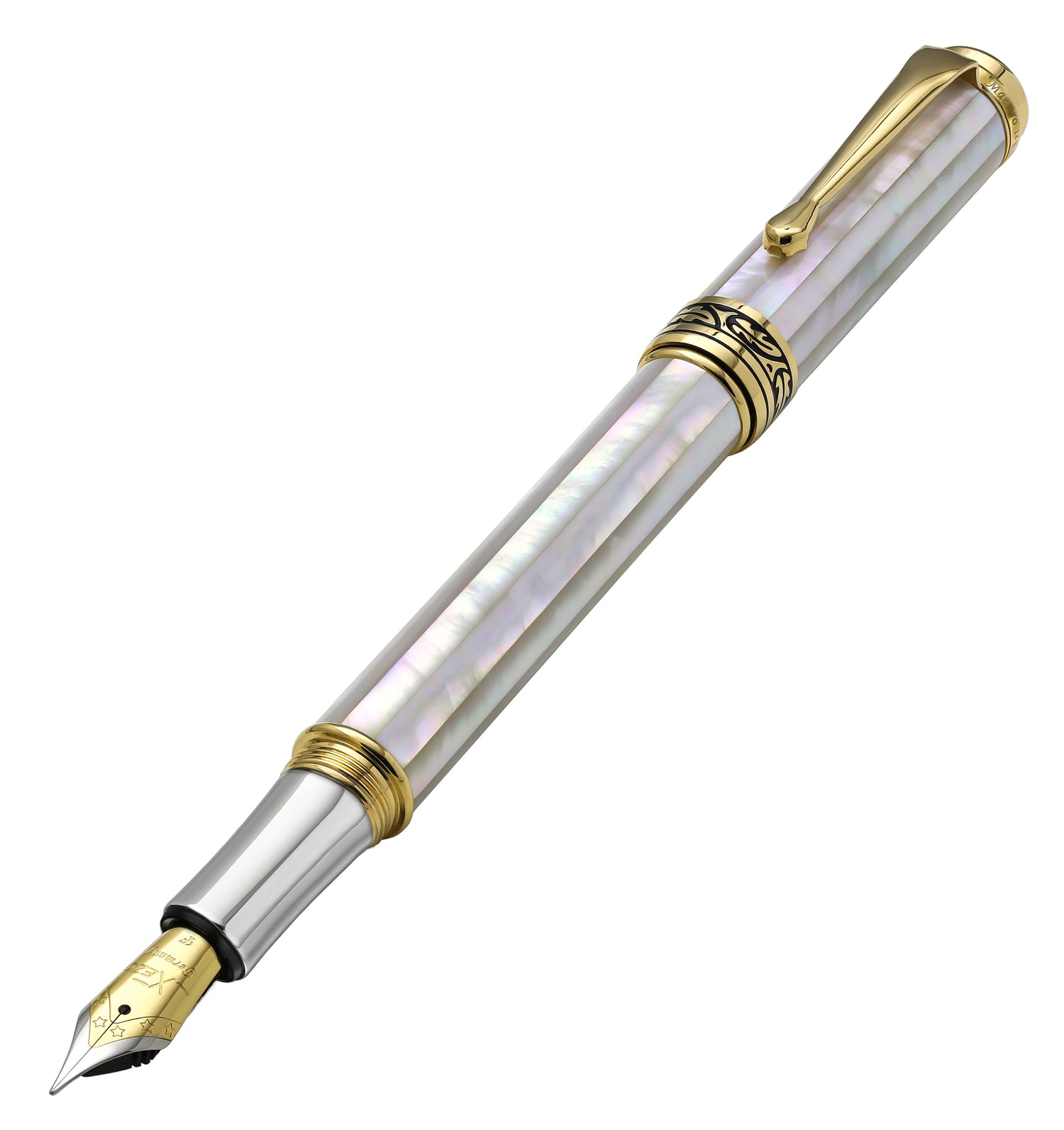 Explore more Xezo Maestro® Series Pens
The Xezo Maestro Series luxury pens are a testament to timeless elegance and unparalleled craftsmanship. These exquisite writing instruments seamlessly blend classic design with modern sophistication. We handcraft each pen in the Maestro Series meticulously. Featuring lustrous barrels made from precious materials like sterling silver, exquisite resins, or rich lacquer finishes. The attention to detail extends to the meticulously engraved patterns and intricate motifs that adorn these pens. With smooth, responsive nibs and the option for customization, the Maestro Series offers a writing experience that is both luxurious and tailored to individual preferences. These pens are not just instruments; they are symbols of refined taste and a commitment to excellence.
See More