Product Description
Celebrating the 20th Anniversary since the launch of Xezo's Maestro All Mother of Pearl pen series in 2003, Xezo is introducing the very special Maestro Jubilee collection. The Maestro Jubilee series of pens features a second-to-none level of workmanship from our shop's dedicated craftspeople, using precious oceanic nacre. Remaining true to Xezo's belief in passing value to fans, this pen model is limited to only 223 pieces made worldwide.
This rollerball pen features a smooth rolling ink tip with a fine point (0.6 mm line width). The brass fittings are plated in shiny 18K gold, and the grip section is also plated with platinum.
Each of these pens use around 240 checkers made of white oceanic mother of pearl and Pāua abalone shells with a hardness of 4.5 on the Mohs scale (as hard as steel). Each of these small square pieces were skillfully cut by hand to the exact size, then elaborately set on the barrel. This time-consuming process was finished by polishing the entire surface of each barrel to make it rounded, silky smooth to the touch, and glossy—no clear coat needed. Every one of these pens is a beautiful and timeless work of classic art.
Every piece of nacre was carefully selected to show the most vibrant color hues. These iridescent checkers shift colors in the light and can range in tones from white, pink, purple, green, blue, turquoise, yellow and grey. White mother of pearl and Pāua abalone shell are natural materials, and every panel is unique. Due to this, some distinctions in the colors and textures in these pens may occur, helping make your pen truly one of a kind.
Collapsible content
Product Specifications (Click to expand / hide)

Model Name
Maestro Jubilee Gold R
Body
Solid aluminum barrels
Body Features
- Approximately 240 squares of meticulously hand-worked shell
- Smooth, rounded surface
Cap Closure
Screw cap
Color
Abalone Shell and White Mother of Pearl
Diameter
13 mm
Fittings
18k gold, pure .999 platinum-plated brass
Length (Capped)
145 mm / 5.71 in
Length (Posted)
174 mm / 6.85 in
Limited Edition
223 pieces
Line Width
Fine (0.6 mm)
Other Features
- Created in celebration of the 20th anniversary of the Xezo Maestro All Mother of Pearl pen series made in 2003
- Limited edition of only 223 pieces worldwide
Packaging
Gift box, 1 rollerball refill, certificates, and 3-year warranty card
Pen Type
Rollerball
Refill
Standard sized rollerball refill
UPC
850024254893
Warranty
Every Xezo writing instrument is guaranteed against all defects in workmanship and parts for 3 years from date of sale. Additional 2-year and 4-year warranty coverage plans can be purchased separately from Xezo.
Weight
1.41 oz / 39.97 g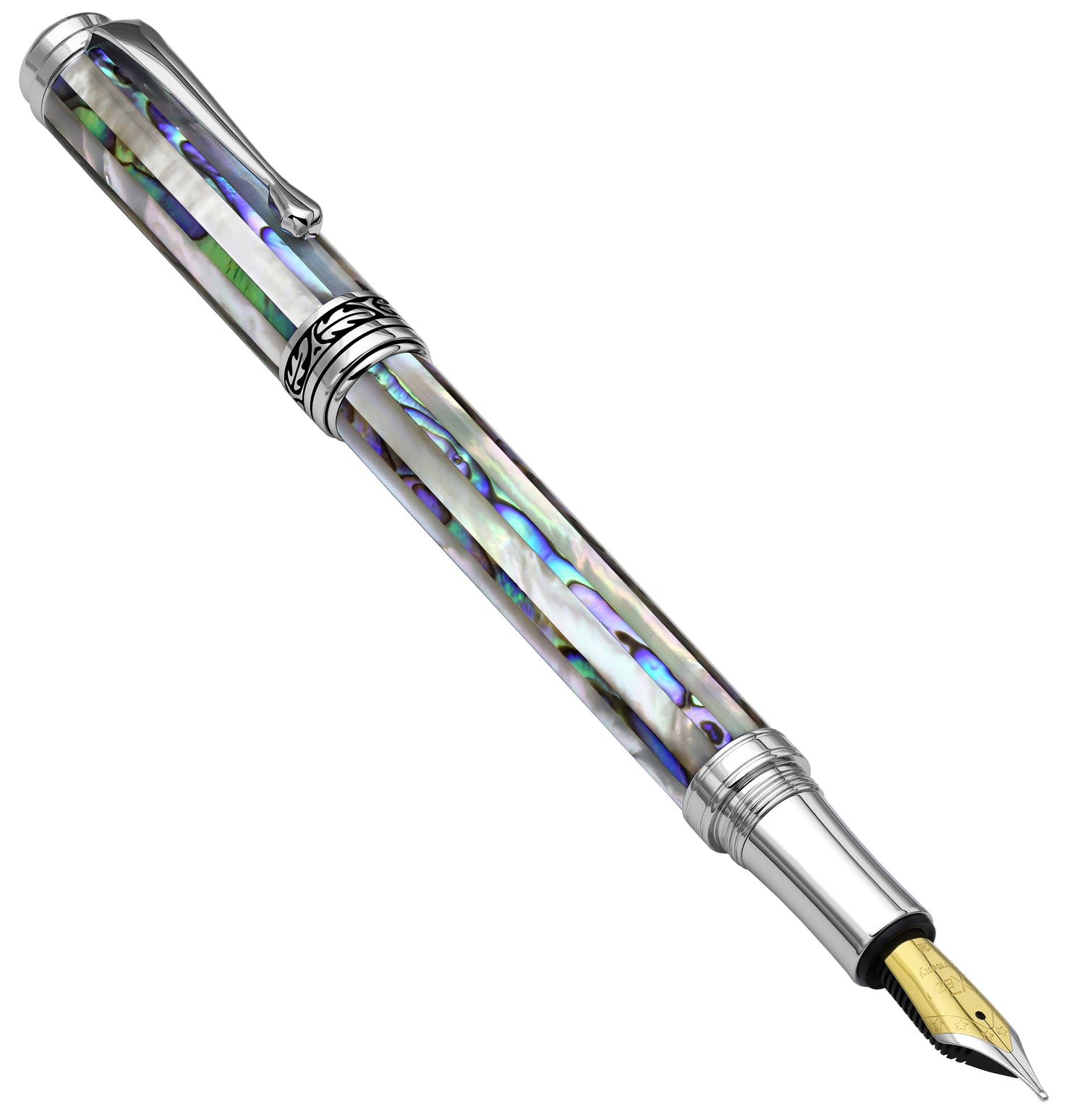 Explore more Xezo Maestro® Jubilee Pens
Created in celebration of the 20th anniversary of the Maestro All Mother of Pearl pen series in 2003, Maestro® Jubilee pens are meticulously handcrafted to showcase the natural beauty of iridescent mother of pearl and abalone sea shell.
See More