Product Description
The Xezo Maestro Tungsten Metallic and Black Mother of Pearl series of handcrafted rollerball pens were produced in a limited edition and individually numbered.
The design concept involved combining elements of the Art Nouveau style, such as the wave-like curved clip, with a high-tech tungsten metallic finish and the beauty of natural black mother of pearl.
The lower barrel is made with long panels of natural Tahitian black mother of pearl and is adorned with a hand-etched 18-karat gold plated Greek key. The production of the lower barrel is an art in itself. In order to produce the silky smooth finish and highlight the richness of the black mother of pearl, the barrels were manually polished in several stages. This process takes around 2 weeks to complete in order to bring out the unique colors of the material.
Fittings are made of solid brass with 18-karat gold plating and are hallmarked. Tround he body and cap of the pen are produced from solid brass and painted with a tungsten metallic color. Multiple layers of clear lacquer are applied on top of the finish for added protection and glossiness. The end result of these elaborate efforts is an object of art polished to perfection and adorned with glowing, iridescent black natural mother of pearl, a tungsten metallic finish, and 18-karat gold accents.
No two pens are exactly alike. The panels of black mother of pearl range from black to light gray, along with red or blue or green overtones. The black mother of pearl is a natural material; therefore, some distinctions in the texture of this material may occur. These distinctions and variations in texture are not defects, but rather natural attributes which add beauty and uniqueness to each of these pens.
Collapsible content
Product Specifications (Click to expand / hide)

Model Name
Maestro Black MOP Tungsten R
Body
Solid brass barrels
Body Features
- Inlaid with real, natural black mother of pearl
- Shell is beautifully iridescent
- Smooth, rounded shell
Cap Closure
Screw cap
Color
Black Mother of Pearl & Tungsten Gray (18K Gold Plated)
Diameter
13 mm
Fittings
18k gold-plated brass
Length (Capped)
147 mm / 5.79 in
Length (Posted)
170 mm / 6.69 in
Line Width
Fine (0.6 mm)
Packaging
Gift box, 1 extra rollerball cartridge, certificates, and 3-year warranty card
Pen Type
Rollerball
Refill
Standard sized rollerball refill
UPC
856469005939
Warranty
Every Xezo writing instrument is guaranteed against all defects in workmanship and parts for 3 years from date of sale. Additional 2-year and 4-year warranty coverage plans can be purchased separately from Xezo.
Weight
2.29 oz / 64.92 g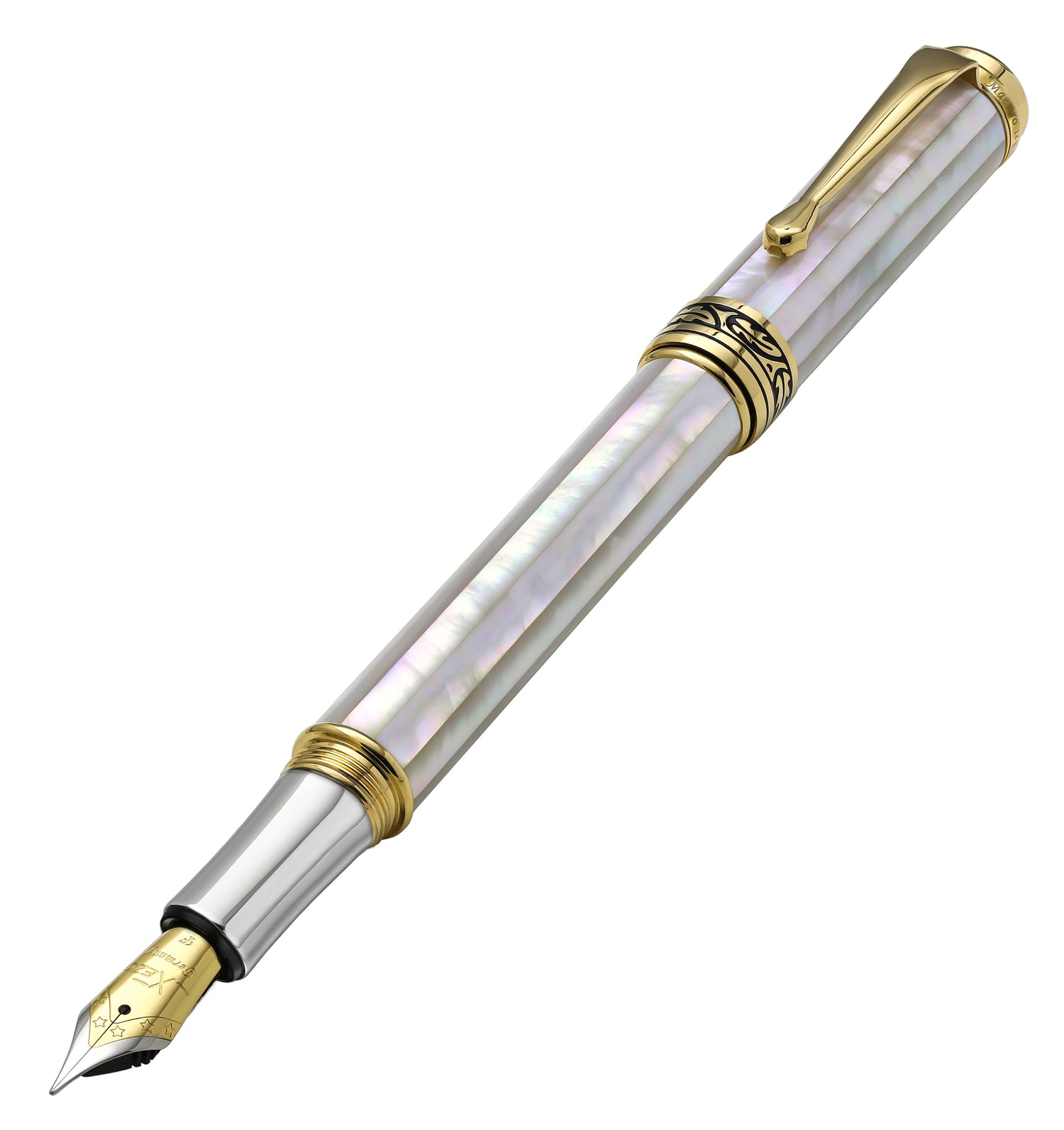 Explore more Xezo Maestro® Series Pens
The Xezo Maestro Series luxury pens are a testament to timeless elegance and unparalleled craftsmanship. These exquisite writing instruments seamlessly blend classic design with modern sophistication. We handcraft each pen in the Maestro Series meticulously. Featuring lustrous barrels made from precious materials like sterling silver, exquisite resins, or rich lacquer finishes. The attention to detail extends to the meticulously engraved patterns and intricate motifs that adorn these pens. With smooth, responsive nibs and the option for customization, the Maestro Series offers a writing experience that is both luxurious and tailored to individual preferences. These pens are not just instruments; they are symbols of refined taste and a commitment to excellence.
See More